High performance, high productivity, high precision
Be able to be processed continuously by only one worker
The latest model of panel bender
KMP25DS-FT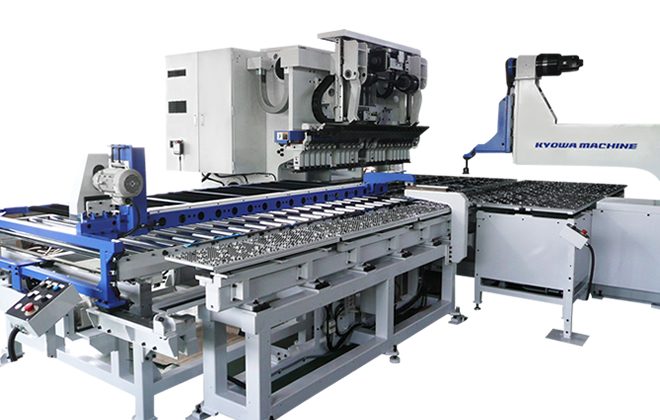 KMP25DS-FT is a compact panel bender with a return table of which the take-in location and take-out location have same direction. A metal sheet could be put on the lower column of return table during the previous metal sheet is being processed. A processed product would be sent to the upper column of return table for taking out. It could be continuously operated by only one worker, and the operating time is decreased 40% then traditional machines.
Characteristics
RETURN

Be able to be operated by only one worker. Make "High productivity" and "Person saving" reality.

HIGH PRODUCTIVITY

Pursue well cost performance basing on operating time shortening.

FLEXIBLITY

Be used to construct production line which is suitable for high-variety and small-lot production.

HIGH PERFORMANCE

Several complex shapes such as R-bending, hemming bending, closing and part-bending, which could not be bent by traditional machines, could be bent by this machine without die exchanging.

HIGH-PRECISION

AC servo motor driven makes it easy to be correction and processing ability in high precision is demonstrated.

ECOLOGY

Support energy saving by using AC servo motor instead of hydraulic.

AUTOMATIC

Automatic top-die change device and other mechanism bring automation and support production system.

EASY

Self-developed program is easy to be used. The machine could calculate and process automatic after data input from touch panel.
General Specifications
Applicable work size : 〜2500mm
Applicable material : SPCC max2.3t SUS430 max1.5t
Bending Sample
The samples above are only a part of our applicable bending shapes.
Information about special bending shapes, please contact us for detail discussion.
Please feel free to contact us.
* Custom-made machine service for your expected specification is also provided.
* It is subject to change the content and dimensions of specifications for machine improvement without any inform.
If there is any unclear about our products, please contact us.
Head Office・Factory
TEL+81-766-63-3805
Monday through Friday 8:30~17:00
Return Type Bender

Automatic Bender

KMP LINE

Inline Press Machine and Other Machine Tools