Inline Press Machine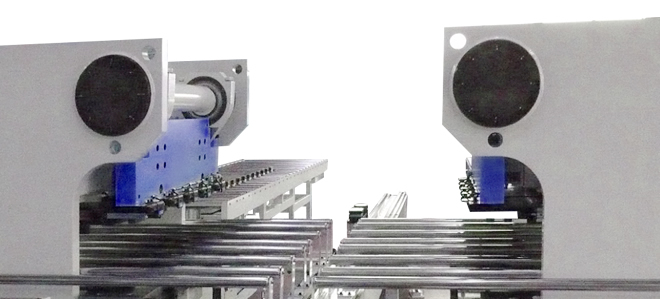 This line press machine quickly and accurately punches holes in sheet metal.
General Specifications
Press equipment : 2 machines (Number of dies : 6)
Material/Steel thickness : SPCCt 0.5 to 2.3mm
Max. press diameter Max. φ30
Handled material size : Max. 1514 x 2438mm
Under High-speed shearing machine (for processing aluminum)
This is a new type of shearing Machine developed for non-ferrous metals.
Main Functions & Features
The cutter is below the path line to provide excellent safety.
The strong spindle makes possible a beautiful sheared surface.
The compact design places the functional components inside a box frame.
General Specifications
Table size : Width 690mm × depth 456mm
Material: for non-ferrous materials (for processing aluminum)
Cutting capacity: Height 120mm × width 200mm, height 50mm × width 365mm
NC Sizing Table (for processing aluminum)
This table has NC sizing stoppers developed for cutting long materials.
Main Functions & Features
Sizing Stoppers can perform high-speed positioning automatically by operating the numeric keys on the control panel.
Cutting is accurately performed as the position is digitally displayed in 0.1mm unit.
General Specifications
Table size : Length 4300mm (for 4M specification model), Width : 350mm, Stroke : 3700mm
Positioning accuracy : ±0.1mm
Roller Grinder
This is a special grinder that was developed for use in peripheral precision positioning for the windup rollers and other parts used in office equipment.
General Specifications
Grindstone dimensions : Outside φ355~255mm
Spindle : Spindle 5.5kw
Handled work : Max. φ50~2mm、Max. length 400mm
Angle Automatic Hole Drilling Machine
The non-ferrous L-shaped material is automatically feed one piece at a time while holes are drilled in both the vertical and horizontal direction. After processing, the work pieces are horizontally transported on a conveyor and stocked.
General Specifications
Processing length : Max. 4000mm
Handled work : Non-ferrous materials
Hole pitch : 185 to 450mm
Drill motor : 0.2 x 2P
* Custom-made machine service for your expected specification is also provided.
* It is subject to change the content and dimensions of specifications for machine improvement without any inform.
If there is any unclear about our products, please contact us.
Head Office・Factory
TEL+81-766-63-3805
Monday through Friday 8:30~17:00
Return Type Bender

Automatic Bender

KMP LINE

Inline Press Machine and Other Machine Tools